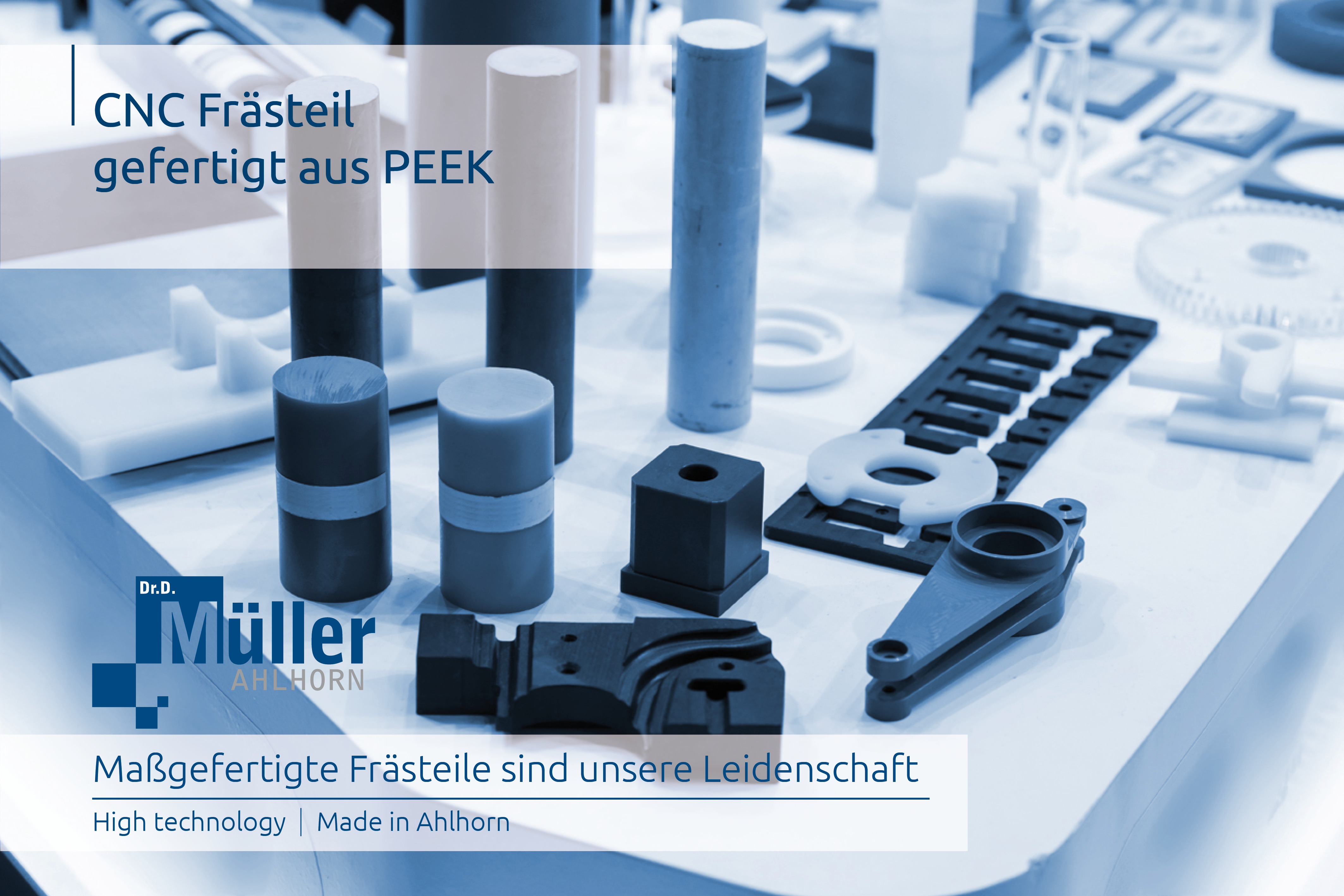 As a thermoplastic and high-temperature resistant plastic, polyetheretherketone (PEEK) belongs to the material group of polyetherketones. It is a versatile high-performance plastic that is used in a wide variety of industries - including the automotive industry, medical technology and the chemical manufacturing industry. In the following text you will learn about the properties of the plastic PEEK and how the Müller Ahlhorn team processes this robust plastic. 
What properties does polyether ether ketone have?
In its natural form, PEEK is a brownish to beige plastic, which can, however, also be provided with individual colouring. Polyetheretherketone is extremely wear-resistant and dimensionally stable. The plastic easily tolerates continuous service temperatures of up to 260° Celsius and is also extremely gliding, fire and radiation resistant. Compared to other plastics, however, PEEK is relatively expensive - not least because it is far superior to most other plastics in terms of its ability to withstand demanding operating conditions. In addition, PEEK is very light and resistant to most chemicals. Since the plastic can also be colored without any problems, it is very well suited for applications where optics play an important role. 
What is PEEK used for?
Polyetheretherketone is a modern plastic used in industry for a wide range of applications. As an abrasion-resistant, gliding and high-temperature resistant high-performance plastic, PEEK is used, for example, as an insulating material in high-voltage technology or as a membrane film in medical technology. Precision turned parts are also made of PEEK - such as handles or parts in contact with production in the pharmaceutical industry. In addition, implants and dental prosthetic frameworks are also manufactured from the extremely robust material. As a general rule, PEEK is a high-performance plastic that can be used individually and can tolerate adverse operating conditions for longer than average. 
How does Müller Ahlhorn process the high-performance plastic PEEK?
Müller Ahlhorn uses PEEK to manufacture turned parts, milled parts and water jet parts - both finished parts and semi-finished products. The company's precision turned parts are further processed into gears or pistons, for example. Müller Ahlhorn is a high-performance company that carries out orders for customers from the chemical, food and automotive industries, among others. 
What advantages do precision turned parts and other parts made of PEEK offer?
Precision turned parts made of polyetheretherketone are characterized by highest precision and maximum robustness. Müller Ahlhorn is able to produce single pieces as well as small series and large series with turned parts, milled parts or water jet parts made of PEEK. Plastic is also suitable for the use of threaded bushes. The plastic can be dyed according to customer-specific specifications to create a harmonious overall picture. Polyether ether ketone (PEEK) is also perfectly suited for the technique of waterjet cutting. 
The advantage of waterjet cutting: With this technique, no heat is generated, so the processed workpieces do not show any microcracks or structural changes. The Müller Ahlhorn team also offers its customers and clients a maximum of service quality - from the initial consultation and the processing of the high-performance plastic polyether ether ketone to the delivery of the produced workpieces.
The range also includes PEEK films in various dimensions and thicknesses, which can be obtained quickly and easily.